Swift Microwave Therapy
The most effective Verruca treatment available. No needles, no long sessions, no aftercare. A scientifically proven solution that uses breakthrough microwave energy to treat skin lesions, Swift effectively treats even most stubborn verrucae.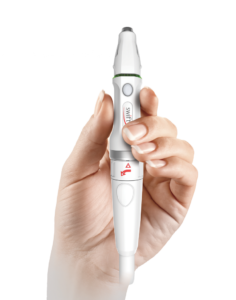 Why chose our clinic?
We are the UK's fastest clinic to complete 1000 swift treatment. We are passionate about getting rid of your Verruca. We have seen hundreds of patients who have struggled with verrucae for as long as they can remember. We want to get a result just as much as you and we fully believe in the effectiveness of this treatment.
How the treatment works
Effective, quick and non-invasive, this treatment is safe to use on children and can also be used to treat finger warts. Swift provides a precise and easy way of treating skin lesions.
Microwave energy rapidly elevates tissue temperature and creates precise, localised cell destruction, ultimately getting your body to create an immune response and combat the virus.
For more information, visit our dedicated website, Yorkshire Verruca Clinic.
Book your initial appointment.
Our highly trained team is on hand to resolve your foot issues, contact us today to book your consultation.
Or call 01484 846 275