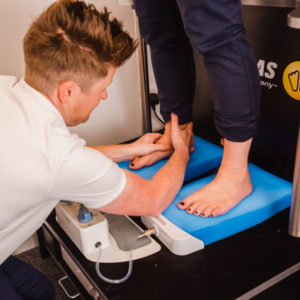 Biomechanical Assessment
At Colne Valley Chiropody & Podiatry, sports injuries are our passion. We have a specialised gait analysis room with the latest technology to provide you with a comprehensive assessment.
It is our aim to provide treatment interventions and specific management plans in order to improve your presenting symptoms.
We have expert knowledge in the prescription of bespoke orthotics which are manufactured and precisely fitted into your footwear, ensuring optimum support and comfort.
We are continuing following evidenced based practice and advance our treatments using the best technology available. We use Shockwave Therapy and K Laser to manage a range of musculoskeletal conditions.
Book your initial appointment.
Our highly trained team is on hand to resolve your foot issues, contact us today to book your consultation.
Or call 01484 846 275